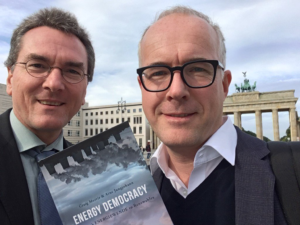 Bestellen Sie das Buch hier.

Spätestens seit dem Atomunfall Fukushima genießt die Energiewende weltweit große Aufmerksamkeit. Die einen preisen Deutschland als neue grüne Supermacht. Die anderen warnen, dass ohne Atomkraft die Lichter ausgingen und die Klimaziele verfehlt würden. Dass beides zu kurz greift, zeigen Craig Morris und ich in unserem Buch Energy Democracy. Weder der zügige Ausbau der erneuerbaren Energien noch der Atomausstieg stellen einen deutschen Sonderweg dar. Was die Energiewende aber einzigartig macht, ist die starke Rolle, die Bürgerinnen und Bürger dabei spielen.
Im Buch gehen wir den Wurzeln der Energiewendebewegung auf den Grund – von den ersten Anti-Atom-Protesten in den 1970er Jahren über die Stromrebellen von Schönau bis hin zu Angela Merkels Entscheidung in 2011, den Atomausstieg endgültig umzusetzen. Aus unserer Sicht bietet die Energiewende die einmalige Gelegenheit, lokale Gemeinschaften zu stärken und den Energiesektor zu demokratisieren – in Deutschland und weltweit.
Rezensionen
"… one of the most powerful books on the renewable energy revolution in decades… an uplifting tale for people everywhere… particularly relevant for North Americans and serves as a guide for how we can use renewable energy to rebuild our crumbling democracy. –  Review by Paul Gipe for Windworks.org.
"Without a doubt the best book for anyone who wants to understand the political, economic, financial, industrial and social stakes of the energy transition, wherever it happens." –  Review by Écrit par Yves Heulliard for French DD Magazine.
"How the German people ushered in a green energy revolution." –  Review by Paul Hockenos for The National.
"How Germany's energy revolution solves more than just climate change." –  Review by Anca Voinea for coop news.
"The German Energiewende is driven by a kind of conservatism that the Norwegian right wing has forgotten." –  Review by Bjørn Gregory Stærk for morgenbladet.
"A fascinating narrative and an indispensable guide to Germany's renewable energy movement. Must-read for anyone interested in its growing popularity as a model for the world." –  Review by Gavin Fridell for the Canadian Journal of Development Studies.
"The Energewende is not told as a static concept, but as a living, personal story which does not do without stumbling blocks, but  is characterized in the end by its numerous successes." –  Review by Danny Srp, Agentur für Erneuerbare Energien.
"…full of hope for those here who think things can never change." –  Review by environpaul, blogger.
"…clearly the best English language coverage of contemporary energy politics in Germany." –  Review by Robbie Morrison for openmod.
Bestellen Sie das Buch hier.