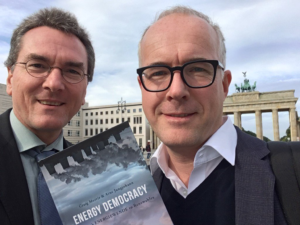 Click here to order.
How did the Germans convince their politicians to pass laws allowing citizens to make their own energy, even when it hurt utility companies? Energy Democracy traces the origins of the Energiewende movement in Germany from protests against the industrialization of rural communities in the 1970s to the Power Rebels of Schönau and German Chancellor Angela Merkel's shutdown of eight nuclear power plants following the 2011 Fukushima nuclear accident.
In the book Craig Morris and I explore how community groups became key actors in the bottom-up fight against climate change. Individually, citizens might install solar panels on their roofs, but citizen groups can do much more: community wind farms, local heat supply, walkable cities and more. Our book offers evidence that the transition to renewables is a one-time opportunity to strengthen communities and democratize the energy sector – in Germany and around the world.
What readers say
"… one of the most powerful books on the renewable energy revolution in decades… an uplifting tale for people everywhere… particularly relevant for North Americans and serves as a guide for how we can use renewable energy to rebuild our crumbling democracy. –  Review by Paul Gipe for Windworks.org.
"Without a doubt the best book for anyone who wants to understand the political, economic, financial, industrial and social stakes of the energy transition, wherever it happens." –  Review by Écrit par Yves Heulliard for French DD Magazine.
"How the German people ushered in a green energy revolution." –  Review by Paul Hockenos for The National.
"How Germany's energy revolution solves more than just climate change." –  Review by Anca Voinea for coop news.
"The German Energiewende is driven by a kind of conservatism that the Norwegian right wing has forgotten." –  Review by Bjørn Gregory Stærk for morgenbladet.
"A fascinating narrative and an indispensable guide to Germany's renewable energy movement. Must-read for anyone interested in its growing popularity as a model for the world." –  Review by Gavin Fridell for the Canadian Journal of Development Studies.
"The Energewende is not told as a static concept, but as a living, personal story which does not do without stumbling blocks, but  is characterized in the end by its numerous successes." –  Review by Danny Srp, Agentur für Erneuerbare Energien.
"…full of hope for those here who think things can never change." –  Review by environpaul, blogger.
"…clearly the best English language coverage of contemporary energy politics in Germany." –  Review by Robbie Morrison for openmod.
Click here to order.